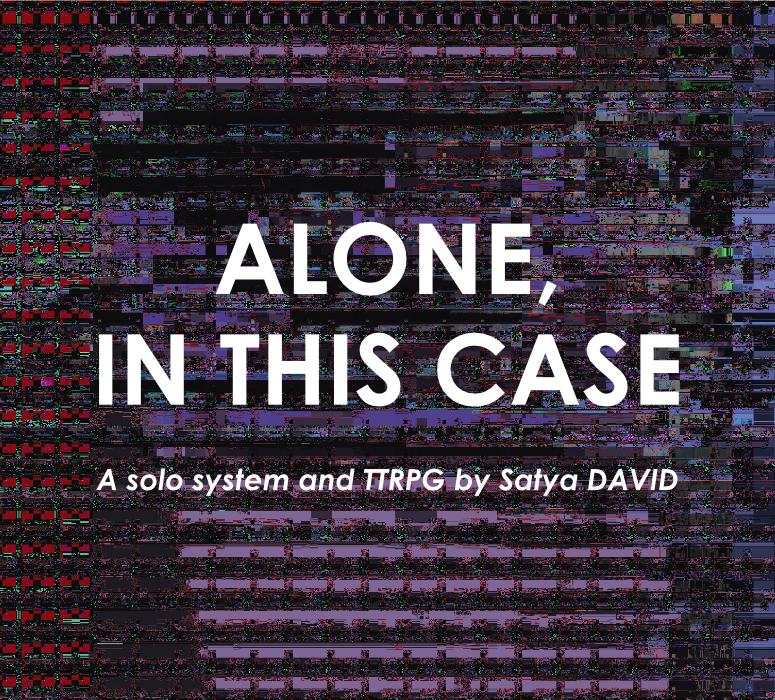 Alone, in this case
Alone, in this case is a system meant for solo games in which you encounter characters with different personalities. It is meant for journaling games where you write, record and create all information you want as you advance in your story.
In order to play a game using this system, you will need paper (or any software to record your progress) and at least 2 six-sided dice. You character is defined by three characteristics : BRAWN, FINESSE and INVESTIGATION.

Characters you will encounter have their own personality, represented in four squares : MOOD, THREAT, LIES and CONFRONT. Throw the 2 six sided dice, determine the outcome and influence the non-playable characters with your actions.
But stay careful. You'll need to manager your Undercover & Resolution meter if you want to achieve your investigation.

And of course, avoir danger at all costs.

--------------------

Alone, in this case : noir is a solo game based on the system mentionned before. You are an ex-prisonner and have been offered a deal to reduce your sentence : to go undercover and try to gather evidence, clues and names. Your focus is the members of an Organization that seems to orchestrate dangerous activities throughout solar systems.

Will you dive into this chaos and accept to get your hands dirty? Will your glitched eyesight module change your vision of Justice and Truth?

This game will features mature themes and will be released periodically, in 9 episodes. For now, you can already read the teaser.

--------------------

Both Alone, in this case and Alone, in this case : noir are a melting pot of inspirations and mechanics from :
Writing & Game design by Satya DAVID

Download
Click download now to get access to the following files:
Alone, in this case - ENG - 0.2.docx
220 kB